Our Veterinarians
The College Mall Veterinary Hospital team includes a team of six highly skilled veterinarians. We proudly serve Bloomington, Indiana and the surrounding area. It is our daily privilege to provide high quality, compassionate, and competent veterinary care to your cherished pet.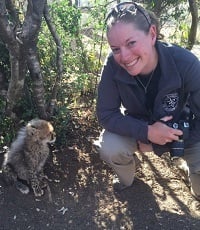 Dr. Jessica Gilliatt
Dr. Jessica Gilliatt was born and raised in Indianapolis. Her passion for veterinary medicine was sparked by her interest in the human-animal bond while volunteering for a therapeutic riding barn and the Humane Society of Indianapolis at the age of 13. She continued on to obtain her Bachelor of Arts degree in Biology from Indiana State University in 2009. After the long trip to Southern California for four years, she graduated from Western University of Health Sciences College of Veterinary Medicine. Dr. Gilliatt has always loved Bloomington and is very excited to be able to live here and be close to home again.
Over the years as a veterinary student, Dr. Gilliatt developed special interests in soft tissue surgery, preventative medicine, and ophthalmology. She has two dogs (Lily and Mosby) and hopes to spend her free time giving back to the community by volunteering for various organizations, hiking, camping, spending time with family, and finding good books to read by the fire.
Dr. Laura Gibson
Dr. Laura Gibson graduated from University of Illinois College of Veterinary Medicine in 2019. Born a Hoosier, she grew up in Clinton, Indiana and graduated as valedictorian of her high school class. Dr. Gibson was the captain of the varsity swimming and softball teams. She earned her undergraduate bachelor's degree in Biology from the University of Southern Indiana in Evansville.
After college, Dr. Gibson moved to Virginia Beach to finally live with her husband, her high school sweetheart, Jacob, while he was stationed there on active duty in the US Navy. After transitioning to the Reserves, the Gibson's relocated to Urbana, Illinois for Dr. Gibson to pursue a veterinary medicine degree while Jacob joined the law enforcement community. They have finally settled down in a rustic log cabin home in Brown County-a long-time dream reached!
While in vet school, Dr. Gibson developed interests in soft tissue surgery, ophthalmology, and preventative medicine. She also enjoys shelter medicine and was fortunate enough to spend a month in New York City as an extern with the ASPCA, which she found very rewarding. She even witnessed a week-long grand jury trial convict a guilty defendant of dog fighting and rescued many cats from hoarding situations. Dr. Gibson loves to spend time with her husband, her family, and friends, especially outdoors. She likes to go hunting, fishing, camping, hiking, swimming, and playing tennis. She also loves to cuddle with her three fur children: her childhood kitty, Jasmine (her 9th birthday present), her sweet Manchester Terrier, Diesel, and her goofy Doberman, Granger! Dr. Gibson is very excited to join the College Mall team!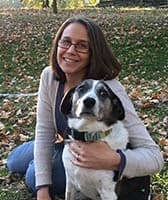 Dr. Shari Hughes
Dr. Shari Hughes is a graduate of Indiana University and the Purdue University School of Veterinary Medicine. Originally from South Bend, Dr. Hughes fell in love with Bloomington as a student and came back to take a position at College Mall Veterinary Hospital in 1992. Two decades later, she still enjoys practicing while she and her husband Paul, a teacher at Bloomington High School North, keep busy raising three children, two cats and a dog.
When she is not working with animals, Dr. Hughes enjoys watching movies at home, visiting with family and friends, or piling the kids and dog into the car for the occasional road trip.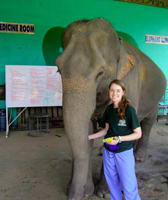 Dr. Molly Maynard
Dr. Maynard just moved here from Terre Haute, Indiana but is originally from Southwest Michigan where her family owns a coffee shop. She went to Michigan State University for her bachelor's degree in Zoology with a concentration in Evolution, Ecology, and Organismal Biology. Following her undergraduate studies, she attended Purdue University College of Veterinary Medicine where she earned her Doctor of Veterinary Medicine degree. Dr. Maynard has a great passion for zoo, wildlife, and exotic medicine. She has spent time working in Thailand, Kenya, and the Czech Republic. Her family consists of her boyfriend who is going to Indiana University to earn his PhD, her black lab Zooey, Saint Bernard mix Oliver, and two cats-Maebe and Luna.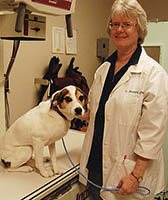 Dr. Christina Swanson
Dr. Christina Swanson is a graduate of Purdue University, where she received an undergraduate degree in 1978, and then her Doctorate of Veterinary Medicine (DVM) in 1981. Dr. Swanson is the Co-Managing Veterinarian at College Mall Veterinary Hospital.
Dr. Swanson has been in small animal practice for over 30 years. Her main interest is the medical and surgical care of dogs and cats, including performing ultrasonography, such as abdominal scanning and cardiac ultrasounds. Most of all she relishes the unique human-animal bond that she sees in all of her patients with their owners. She hopes that with her medical care that bond will be allowed to strengthen and flourish.
Dr. Swanson is a member of the American Veterinary Medical Association, American Animal Hospital Association, Indiana Veterinary Medical Association, the Indiana Board of Animal Health Medical Reserve Corps, as well as a long time member of the Bloomington Rotary Club. She is also a Board Member of the FS Bloomington Figure Skating Club.
She is married to Allen Parkes, and has twin daughters, Jackie and Christa, as well as a stepson, Shea who is married and lives in Indianapolis. Shea and his wife Angie have Dr Swanson's first grandkids, Klaus and Bianca. She shares her home with two dogs, Priscilla and Bailee, and two cats, Sushi and Oreo. She spends time riding her American Saddlebred horse named Joe, and enjoys trail riding with her husband and his horse, Charlie. When not busy with animal and kid things, she and her husband like to downhill ski, and she likes to ice skate, as well.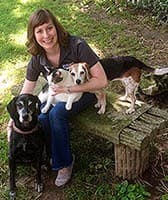 Dr. Jona Taber
Dr. Jona Taber is a graduate of Purdue University College of Veterinary Medicine. Dr. Taber is the Co-Managing Veterinarian at College Mall Veterinary Hospital. She grew up in Kentucky where she attended Murray State University and found not only three furry friends, but her future husband as well.
She is a currently a member of the American Veterinary Medical Association and Indiana Veterinary Medical Association. While in veterinary school, she developed a passion for dentistry, dermatology and soft tissue surgery of small animals. Of course, she has always loved preventative medicine -- especially with new puppies and kittens. Answering questions from a new puppy or kitten owner is one of her favorite moments because it is such an exciting time that a veterinarian gets to share with her clients and patients.
She was married to her husband in 2012, and is excited to be a resident and homeowner in Bloomington. Her passions include gardening, downhill skiing, traveling and walking with her two dogs: Marley, a cute and sassy beagle, and Dylan, a sweet and loyal hound-mix. Unfortunately, her furry feline, Eli, is not able to go for walks but does enjoy looking at birds from the screened-in patio.